Close-up Magic:
Miracles presented right before your eyes.
For your cocktails, banquets, parties, happy hours, and any other group gathering, Étienne mingles with the guests and presents them with intimate and entertaining tricks performed right before their eyes using cards, rings, banknotes, coins, etc.
This entertainment is mobile and allows Étienne to reach the guests wherever they may be.

Close-up magic helps people socialize and breaks the ice between guests who may not know each other well.
There is something particularly fascinating about being only 30 centimeters away from the skilled hands of the magician and being unable to detect any secrets.
Étienne is a virtuoso of micro-magic and has participated in countless events throughout Quebec and several other Canadian provinces.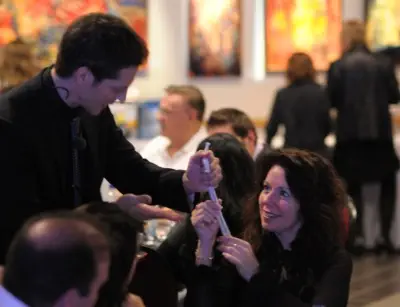 Étienne can even present personalized tricks to celebrate your special occasions.
Imagine, for example, your logo appearing on the chosen card!!
Or tricks that highlight your company at a trade show!!
Your guests will talk about it for a long time.

"Judging by people's reactions during the evening, there is no doubt that you contributed to making the evening a success.
You managed to create a nice surprise effect among the guests by combining humor and magic.
You entertained them enough during the cocktail hour that they forgot about the absence of appetizers before dinner… that's no small feat!
I would recommend your services without any hesitation!"
Étienne's clients include:
Testimonial
"We used the services of Étienne Vendette during a cocktail dinner at the office. It was an absolute success.
Étienne was able to move around the floor and engage small groups of people throughout the time he was there.
People were skeptical at first, but quickly word spread that there was a magician on site and they had to see what he was doing.
People talked about it for several days after the event. His presence added an extra touch to the experience we wanted to offer during the evening.
We would do it again!"
Mélanie L‑Guérin​​
Senior Project Coordinator
LIDD

Testimonial
"The animation that you presented ... to our employees during a dinner was a great success and we would like to express our warmest thanks to you.
We would also be delighted to be able to rely on your services again for another future event. The animation that you provided us was of great quality."
André Michel
Senior Advisor in Technologies, Government of Quebec
Microsoft Canada
Testimonial
"I wanted to thank you for your performance during our Conference for Air Canada's Senior Managers, held at the Hyatt Regency Hotel.
Our guests were very impressed by your talent and the way in which you were able to adapt certain acts to be relevant to Air Canada.  You are a very talented artist with a great stage presence and we will certainly be contacting you for future events."
Lisa Holowach-Bell
Corporate Affairs
Air Canada
Testimonial
"All of our participants at the Desjardins Financial Security senior executives meeting... were delighted by your performance.
Your tricks impressed us, you made us laugh; in short, you met our needs, which were to change our minds and relax.
Furthermore, your ability to connect to your audience also contributed to the appreciation of your performance."
François Joly, CA, M.B.A.
Président et chef de l'exploitation
Desjardins Sécurité Financière
Testimonial
"I've only received good comments. Everyone was delighted.
The performance went well, fast and easy. Your approach with people managed to create smiles and a nice surprise.
I am confident that I will hear about it for a long time ????
Thank you again."
Chantal Tremblay
Human Resources Director – Canada
Nortek Air Solutions

Testimonial
"The participants at the cocktail greatly appreciated your performance. Surprise and disbelief could be seen on several faces!
We also appreciated your dynamism and your interpersonal skills."
Dominique Carle
Senior Advisor, Special Events
Business Development Bank of Canada

Testimonial
"I wanted to sincerely thank you, Étienne, for your valuable collaboration during the end-of-year celebration at Thales. The close-up performances during the cocktail were greatly appreciated by the guests, and the quality of the entertainment lived up to our expectations.
As for your intervention during dinner, it was unanimously agreed upon and approved by everyone. Particularly, your freshness, sense of humor, and the quality of your performances are your distinctive marks.
Moreover, being able to switch from English to French with such dexterity charmed the audience. Thank you again!
Stéphanie Treinen-Agamennone
Communication Manager, Aerospace
Thales Canada
Testimonial
"Just a few words to let you know how satisfied we were with your magical performance during our Holiday Party.
The feedback we have received has been full of praise for you, and everyone was charmed by your act. Your tricks, brilliantly executed, captivated the interest of the guests and demonstrated impeccable skill and professionalism.
Through your humor and quick thinking, you were able to lighten up the atmosphere and create a climate conducive to the success of the evening.
It is with great pleasure that I will recommend your services.
Hélène St-Pierre
Human Resources Advisor
Bose Canada Inc.
Testimonial
"I take a moment to thank you for the entertainment you provided us during the Christmas party of the Molecular Endocrinology Laboratory at the CHUL Research Center.
You brought a lot of energy to this evening that everyone enjoyed. The feedback we received shows that we made a wise choice in hiring your services.
We thank you for this pleasant evening and we highly recommend you without hesitation."
Fernand Labrie, O.C., O.Q., M.D., Ph.D.
Director of the CHUL Research Center (CHUQ)
Molecular Endocrinology Laboratory CHUL Research Center

Testimonial
"I take a few moments to express our great satisfaction with your performance at our holiday party.
The feedback is unanimous, you brought a lot of energy to the evening and everyone greatly enjoyed the close-up magic and the final show. Your magic tricks, infused with humor, impressed us. You made us laugh and managed to capture our attention from beginning to end.
We thank you for this enjoyable evening and we will not hesitate to contact you again for this type of event in the future."
Nicole Boulay
Director of Human Resources
Dufresne Group

Testimonial
"We would like to sincerely thank you for the excellent performance you provided us with during our client event.
As you certainly know, it is imperative to make a wise choice during such an important meeting. We are delighted to have used your services as you brilliantly met our request. During your friendly performance, you combined magic and humor in a way that amazed the clients while making them laugh! I greatly appreciated your enthusiasm and openness, and your ability to tailor your performance to our specific needs.
Our event turned out to be a great success. Our clients left delighted"
Annie Anglehart
Marketing Director
CFOM 102,9

Testimonial
"You managed to entertain us even before the start of your show by performing tricks with the people already seated and your magic tricks, combined with a touch of humor, pleasantly amused our members.
What can we say about your show that captured the attention of everyone? By choosing people to assist you, it created an atmosphere of complicity that was conducive to relaxation and celebration!
We thank you for providing us with such great entertainment..."
Guylaine Lebeau
Promutuel Group
Federation of General Mutual Insurance Companies

Testimonial
"We would like to express our great satisfaction regarding the services you provided to us during the Caisse Recognition Gala at the Clarendon Hotel.
Thanks to your remarkable performance, the show was extraordinary and delivered in a humorous manner.
Your contribution to the success of our event was greatly appreciated by everyone. You not only met our expectations but exceeded them.
We sincerely thank you for your excellent service and will not hesitate to refer you in the future."
Carole Riel
Director, Asset Management
Desjardins Financial Services Cabinet

Promocentive Voyages Testimonial
"I would like to thank you for the excellence of your services during the Tarkett Canada evening at Château Mont Ste Anne.
Charming and mischievous, you illuminated our evening with your inventive "close-up magic". You have mastered a precise art.
I have only received praise for you, you stood out for your originality and dexterity, it was a real success."
Sylvie Castéra
President
PromoCentive Voyages

Testimonial
"We would like to thank you for quickly responding to our request for the Walter event...
Once again, you greatly contributed to the success of the evening. Your performance was highly appreciated and undoubtedly one of the highlights of the dinner."
Julie Mougeot
Project Manager
Altitude Concepts

Testimonial
"Thank you for making this evening a remarkable event!
It was an excellent show that was a great success. The idea of showcasing the company during your performance was extraordinary!
Once again, thank you for this excellent evening!"
Patricia Pilon
Human Resources Agent
Les Immeubles E. Tassé